Back to Blog
10 Considerations for Evaluating Milling Plant Projects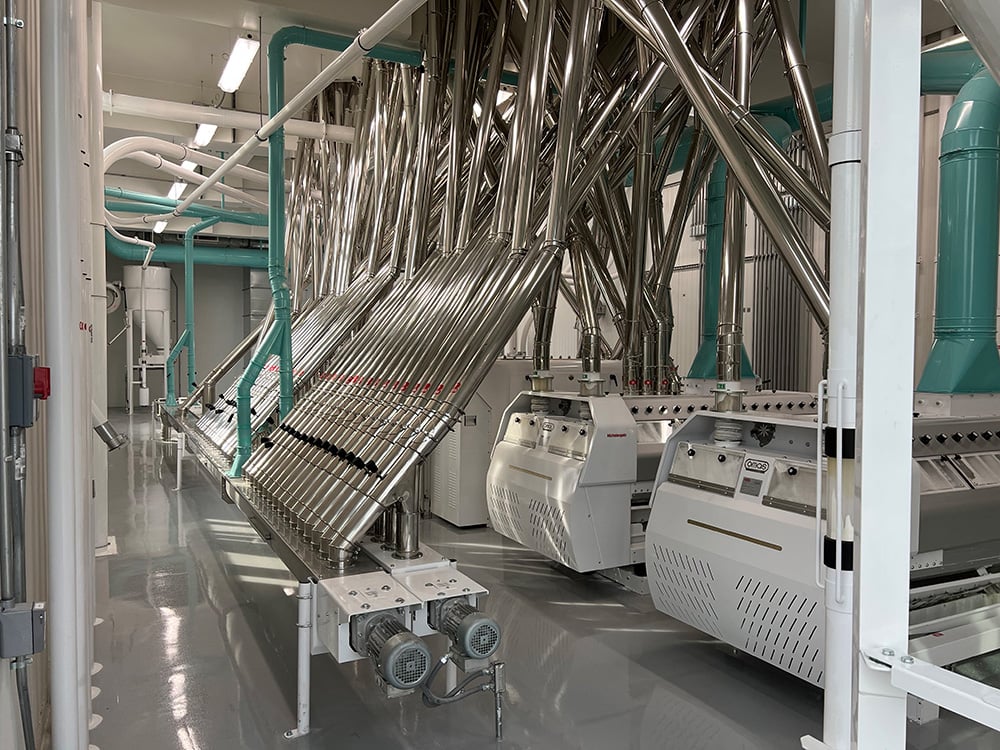 In 1983, the US Government-mandated a low of 60.2 million planted acres for corn. As of 2010, this exceeded 90 million acres. Grain always has been, and always will be in high demand all over the world. Mill projects are a huge task, but as such can reap huge rewards. There are several factors to think about when it comes to evaluating such a project. For information on 10 of the most important things to consider for a milling project, keep reading.
1. Automation in Milling
Depending on how you want your milling process to work, the amount of automation present can vary. There are various advantages to increased automation:
Changes in rates and quality of the input and output products can be monitored and corrected automatically
Improved consistency of products
Automatic recipe/SKU adjustments
Data from automation can be used to identify the most efficient processes
Monitoring industrial equipment can give early indications of machine failure, making preventative measures and planned maintenance possible
Helps ensure regulations are met
Less staff needed to operate machinery
Reduces human error
The scale and budget of a project, along with these factors, should all be considered when looking at automation options.
2. How Long Does Equipment Last?
This isn't an easy question to answer. Even the highest quality grain mill will break down eventually. Our machinery at Bratney is all designed to perform well and stand the tests of time.
In order to keep all equipment in top working order, Bratney have developed a preventative maintenance program. The goal of this is to prevent any unexpected breakdowns that will stop your production lines.
Different options of routine maintenance are available, as well as upgrades, rebuilds, or overhauls. These can be scheduled around your needs to maximize your production time.
3. Demand in the Future
The Covid-19 pandemic had an impact on all industries across the globe. With milling, however, the impact was somewhat different.
There were initial issues, but the importance of food security quickly became apparent. Food will always be in demand, and due to the restrictions in place, the agricultural industry had to adapt.
Modern industrial equipment is safer than ever due to these restrictions. The machinery produced by Bratney meets all required standards, making it fit for the future of milling.
4. Planning Ahead
Older machinery may simply not be able to compete with more modern technologies. Falling behind competitors can be the beginning of the end, so being as prepared as possible is the best way to stay ahead of the competition.
Consider your needs. What do you need to produce? In what quantities? How fast?
If you are not fully prepared for this, it is always better to act sooner rather than later, making sure all of your equipment is of the standard it needs to be.
5. Operator Training
Even with all the cutting-edge technology available, having fully trained staff is essential for any business, especially one that involves large machinery.
Operating a commercial grain mill, for example, can be quite complicated, and needs to be done correctly and safely.
Operators need to have a full understanding of how to operate the machinery they work with. Any gaps in knowledge could cause significant problems to the entire project.
6. New Plant Projects, or Upgrading?
If this is an entirely new project, you will need to do a lot more in terms of planning and preparing. This can be a very challenging task.
If you feel like you might need a bit of help with this, getting some expert advice might be a huge help.
The process engineers at Bratney are fully trained and capable of assisting with a number of project areas. This includes tasks such as process design, 3D and 2D modeling, and control systems.
If this is just an upgrade to an existing project, you may have a much easier time, but Bratney is always there to help whenever you need it.
7. Location
It may not seem like a hugely important factor, but having your plant project based in the right location can make a significant difference to business operations.
Transportation is one of the key components here. You need to be sure that you have easy access to raw materials, as well as convenient outward transport of the finished product.
Any issues with either of these can slow down production, and once your project is set up somewhere, it is no small feat to change locations.
8. Budgeting
When it comes to milling, there are two main expenditures. They're fixed capital investment and working capital investment. Let's take a look at both:
Fixed Capital Investment
This is essentially everything you need to get started. Investments such as machinery, land, buildings/warehousing, registration, and licensing.
Working Capital Investment
These are any ongoing investments that will need to be made. This includes staff, raw materials, distribution, administration, transportation, and marketing costs.
There are many options out there for small business loans, so that is something that might be worth looking into when looking at the cost of your entire project.
9. Will You Need to Do Any Outsourcing?
Everyone would like to be able to do everything themselves, but that is rarely how things work out. A milling plant project is no small task, so you may be required to do some outsourcing.
Bratney offers various services that could be of huge benefit to your project. Such services include:
Fabrication
Equipment installation
Maintenance and repairs
Screen manufacturing
Mobile testing
Lab testing
10. Permission and Registration
Milling falls into the industry of food processing. Because of this, there are very strict rules and regulations in place.
These laws can vary from state to state. It is important to make sure you are aware of the regulations specific to your state before beginning a plant project.
These regulations apply to both acting as a business, but more importantly, safety factors associated with food production. all businesses must be registered with the FDA and meet all of their guidelines.
Roughly 48 million Americans become sick each year as a result of foodborne diseases. The FDA Food Safety Modernization Act is in place to combat that and must be completely adhered to.
Where to Begin?
As you can see, there is a lot to think about when it comes to carrying out plant projects. Having an understanding of all the main components can make the difference between failure and success.
If you're ready to get started, or just after a bit more info, the team at Bratney is ready to help out.
Click here to get in touch with us today!