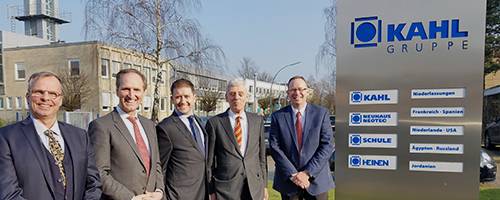 Bratney Companies and F.H. Schule Mühlenbau (Member of the Kahl Group) announce the signing of a strategic partnership agreement. The partnership will include joint distributorship, sales and promotional efforts for new and existing milling plants in the United States. This agreement is an opportunity for both companies to combine their expertise, resources and experiences to achieve their shared philosophy of customer satisfaction.
"The new partnership between Bratney Companies and F.H. Schule Mühlenbau, combines two experienced companies that allow our products to have excellent local sales and service support," said Bernd Kruse, Managing Director of F.H. Schule Mühlenbau. "Together we will provide innovative solutions, quality equipment, and value to our customers."
Founded in 1892, F.H. Schule Mühlenbau is a well-known equipment manufacturer within the rice and oat industries; also, in modern processing machines for other cereals, legumes, teas, spices, oilseed, as well as hydrothermal treatments such as parboiling and bulgur processing. Located in Reinbek, Germany, F.H. Schule Mühlenbau holds several patents due to outstanding research and development efforts since their introduction of the innovative paddy table. The most recent is included in the oat drum cutter which has the highest capacity of any unit on the market.
"This new alliance provides a tremendous opportunity to combine F.H. Schule Mühlenbau's revolutionary technology with Bratney's industry-leading engineering, construction and service technicians," said Peter Bratney, President of Bratney Companies. "This further reinforces Bratney's reputation as a market leader in new and innovative solutions. This partnership will bring great value to our customers in the United States.
Founded in 1964, Bratney began as a supplier to the Midwest seed and grain markets. Today, Bratney is a market leader in engineering, design and supply to the seed, feed, grain and food industries throughout the U.S.
About Bratney Companies
Bratney Companies provides state-of-the-art equipment, process engineering and design, as well as highly skilled millwright and concrete expertise for new and existing customer facilities. These services are provided to customers across the globe from Bratney Companies' Des Moines headquarters; its Boise field office, its engineering office in Kansas City, Missouri; its West Coast office in Sacramento, California; and its field crews and territory managers throughout the United States and South America. For more information about Bratney Companies, please visit: www.bratney.com.
About F.H. Schule Mühlenbau
F.H. Schule Mühlenbau has long time experience in industrial milling plant design and manufacturing. While company headquarters are located in Reinbek, Germany, Schule systems are sold and installed throughout the world, by skilled supervisors and professional technologists. In order to improve product performance, F.H. Schule Mühlenbau continually focuses on research and development efforts with an emphasis on customer satisfaction. For more information about F.H. Schule Mühlenbau, please visit www.schulefood.de