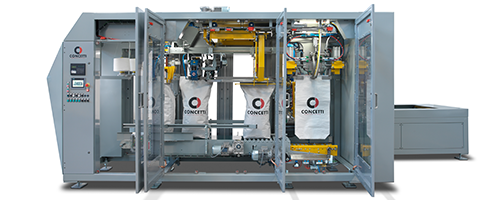 The new I-Flex, from Concetti, is an open-mouth bagger featuring infinite versatility and simplicity in a compact footprint. The name I-Flex stands for "Infinite Flexibility" which highlights the bagging machine's ability to handle a very wide range of bag widths from 10 to 23 ½ inches and a wide range of bag materials and closures including paper, porous polywoven and plastic bags in the same bagging machine. The I-Flex bagging machine is also fully automatic and comes standard with program-controlled recipe changes capable of switching the entire machine's settings to run a new product or bag in less than 90 seconds. Like all Concetti's weighing, bagging and palletizing systems, the I-Flex is Industry 4.0 compliant.
The I-Flex is designed for producers of loose free-flowing materials, dealing with frequent packaging changes, limited space and the need for maximum versatility in their bagging machine. Additional benefits of the compact new design include accessibility and ease of use, making it easy for operators to access all areas of the machine keeping the work area clean and hygienic.

Concetti of Bastia Umbra is one of the few automatic packaging system manufacturers to design, build and test everything within its factory for complete control of their quality and unmatched integration of packaging line accessories like metal detectors, check weighers and labellers.
Bratney Companies is a process engineering company. With divisions in engineering, equipment solutions and design-build construction, Bratney is uniquely capable of delivering turn key process and packaging plants as well as engineered equipment solutions for whole foods, seeds, animal feeds and grains. Bratney Companies is an authorized agent of Concetti, with exclusive markets in the United States.