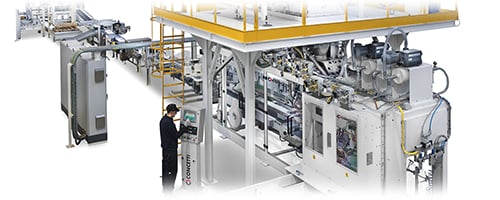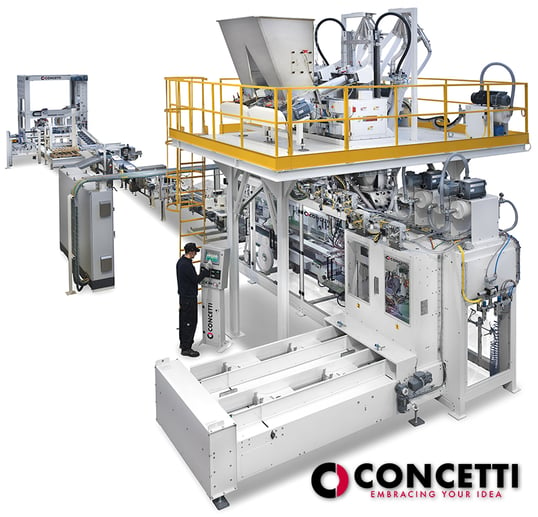 Bratney Companies delivered three turn-key Concetti flour bagging and palletizing systems to US Durum Milling in St. Louis, MO. The mill, owned by Italgrani USA, is the largest semolina and durum mill in North America.

The small bag line includes a Concetti IMF automatic bag filling and closing machine which produces up to 1,000 - 50 lb. bags per hour. The net weigh bagging scales are equipped with two inclined, screw-few net weighers to produce highly accurate bag weights. The bagging machine is equipped with both sewing and pinch top closing devices for pre-glued, multi-wall paper bags.

Palletizing is done with the Concetti four-column robot palletiser offering unmatched flexibility to build any layer pattern as well as square and compress each layer for excellent pallet shape. A metal detector and check weigher are integrated in the line so when the operator changes the bagging recipe for example, the check weigher target weight adjusts as well, eliminating opportunities for errors.

In addition to the 50 lb. bagging line, the customer opted for two Concetti bulk-bag lines to fill 2,000 lb. FIBCs with semolina flour. Each bulk bagging machine is equipped with automated pallet and slip sheet dispensers for high productivity with a single operator for each line.

The lines are constructed in 304 grade stainless steel and all welds in the product contact parts are smoothed and cleaned to prevent product hangup. Additional features in these bagging lines include large access doors for cleaning and inspection, certified food quality rubber seals and gaskets, outrigger bearings with special seals on screw feeders, screw casings also supplied with cleaning and inspection doors.

Bratney Companies is the exclusive supplier for Concetti in North American agricultural markets. Concetti is a manufacturer of turn-key automated packaging lines for bulk materials.