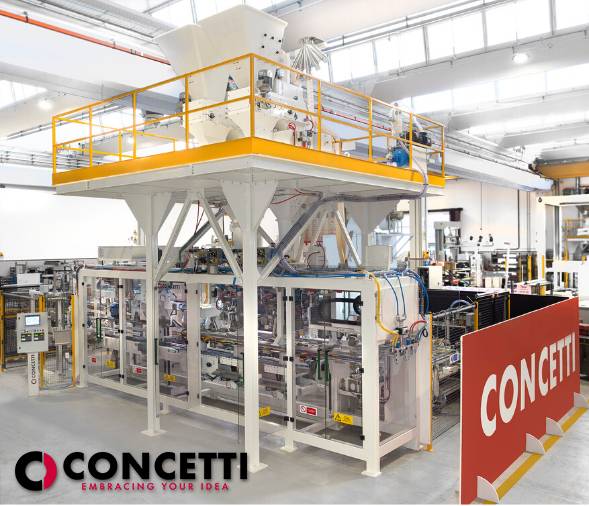 Concetti launches the IGF 1200 "Gemini", two bagging machines in one - without any product contamination
Concetti SpA, manufacturer of automatic systems for weighing, bagging and palletizing bulk products, has designed a new packaging solution for animal feed supplements or similar applications to manage both medicated and non-medicated feeds in a single machine while minimizing the risk of cross-contamination between product batches. The highly regulated industry required a packaging machine with careful design to meet all the client and regulatory requirements. Learn more about the features of this exciting new automatic bagging machine in the article below and scroll to the end to see a video!
Two filling systems in one with a small footprint
The automatic bag filler is equipped with two separate weighing and filling systems, which work alternately, thus reducing the risk of transmitting active substances between different products. In addition to the physical separation of products during weighing and filling, the machine is equipped with a highly efficient cleaning system. Once full, the pre-made bags can then be sewn or heat-sealed based on the needs of the manufacturer. The bags are then conveyed to the robotic palletizer.
By combining the independent bagging spouts and multiple bag closing options in one machine, Concetti has developed a bagger that requires much less space than two different packaging systems, a major advantage of the new Gemini system.
Flexibility
With Concetti systems there is no limit to versatility. The packaging system can manage a wide range of bag sizes thanks to the automatic bag holder with auto-adjustable spout, pre-made, open-mouth bags from 2.5 to 25 kg, flat or gusseted bags made from porous poly, laminated woven poly, paper and plastic. The machine can handle several types of granular and powdery products as well. Bagging rates up to 800 bags / hour (25 kg) and 1000 bags / hour (5 kg).
The complete turn-key bagging system can be configured with the addition of Concetti's innovative four-column, hybrid-robotic palletizer that combines the ability to overlap bags, square each layer and compress each layer to produce perfect pallet loads.